The Best Flavoured Creatine With Great Taste That Offers Enhanced Nutrient Transport
MuscleTech is the dietary supplement company owned by Canada-based lovate Health Sciences, which is also famous for owning other supplement companies like StrongGirl, Hydroxycut, Six Star Pro, and others. It's widely known for providing exceptional quality supplements at a reasonable price range.
Nonetheless, let's have a MuscleTech Cell Tech creatine review and know what type of ingredients it includes, what it provides, and whether it is better than other creatine supplements available in the market.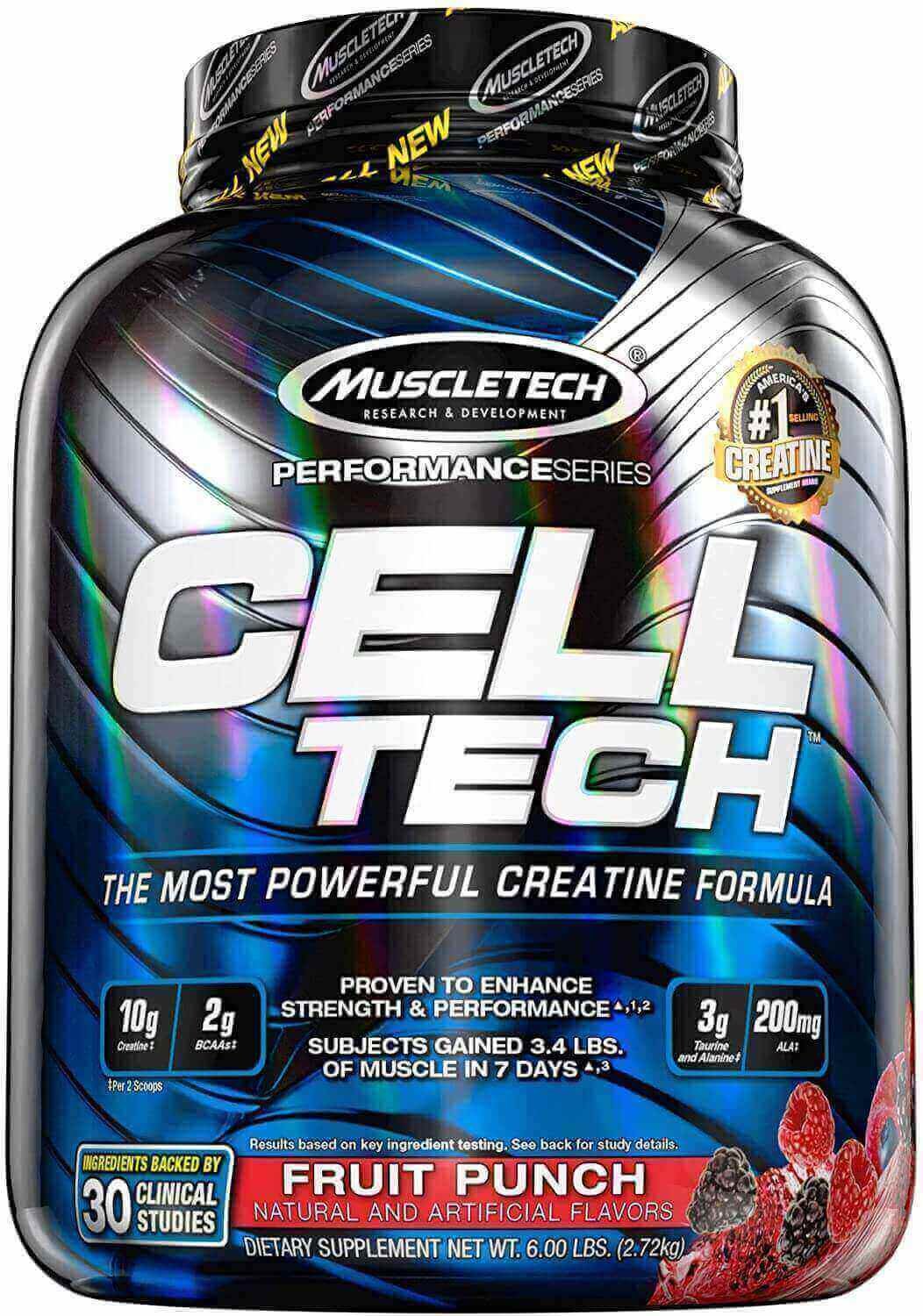 MuscleTech Cell Tech Creatine Review
Let's take at the review of MuscleTech Cell Tech creatine and find out whether it's reliable and, if it's, then what makes this MuscleTech Cell Tech creatine better compared to other creatine supplements.
Nutrition & Ingredients of MuscleTech Cell Tech Creatine
Unlike other creatine supplements, it offers other ingredients except for creatine. It provides 140 calories per scoop. In that one scoop, you get 36 grams of carbohydrates, which have 14 grams of sugar and 2 grams of fiber.
Also, it has 200% of your daily Vitamin B6 and Vitamin C and a decent amount of magnesium and Vitamin B12, along with some potassium and sodium. Likewise, it provides five grams of creatine monohydrate per scoop. It also offers taurine and L-Alanine, BCAA, with 2:1:1 ration and ALA (Alpha Lipoic Acid) 100 Milligrams, making it more than a simple creatine supplement.
Taste of MuscleTech Cell Tech Creatine
Unlike MuscleTech Platinum 100% creatine, it comes in 4 different flavors, which helps avoid boredom that often comes with drinking plain creatine supplements using water.
Orange
Fruit Punch
Grape
Icy Rocket Freeze
Our Overall Review of MuscleTech Cell Tech Creatine – What's Our Take
MuscleTech Cell Tech creatine is among the popular and known creatine formula. But if you look deeper, you'll agree that it goes above simple 5 grams of creatine monohydrate. Likewise, its unique ingredient combination provides everything you need for maximizing the effects of creatine.
Compared to other creatine powder, its serving size is bigger, and it comes in different flavors, so it's recommended to take it separately from your post-workout protein shake. However, mixability is also excellent, which gives you the confidence to try other flavors as well.
So, if you're bored with drinking plain creatine powder or want to try a flavored one, then this MuscleTech Cell Tech Creatine is something you can consider. It's from the famous branded company MuscleTech, so quality is not something anyone should worry about.