Here's Inexpensive & Best Treadmill for Home Gym & Fitness Enthusiasts on Budget
In today's busy schedule hitting the gym isn't something everyone considers unless someone loves working out and can make time for it. No doubt, working out and eating healthy food is something everyone should do, but that's also the fact that there are other responsibilities of life, and you may not have time to work out in the gym daily. Similarly, you're someone who doesn't have an interest in lifting weights, and running or walking is more than enough for you.
Nonetheless, going to the gym only for walking on the treadmill is not something recommended. Instead, going for a walk or else getting a treadmill for home, where you or other family members can make use of it, is more considerable.
Getting a treadmill for home doesn't mean that you should buy heavy commercial gym treadmills that can go out of the budget. Instead, you can get a good treadmill for a home under $2000.
Let's keep reading and get answers to your questions like which are the best treadmill for a home under $2000? Is there any super cheap treadmill for the home that anyone can look for if someone is on a really low budget? So which is the best budget treadmill? Is a cheap treadmill worth it?
Let's get into details.
Here's 6 Best Treadmill for Home Under $2000 Anyone Can Consider
Below are the six best treadmill anyone can consider without making holes in their pocket and without compromising the quality of the product.
1. Spirit XT285 Treadmill
The Spirit XT285 Treadmill is one of the perfect blends of all needed features that come equipped with a cushioning system and a comfortable belt size of 20″ x 60″. If you've got a budget of up to $2000, then Spirit XT285 Treadmill is something you can think of for your home. It offers a powerful 3.0HP drive motor, stable frame, straightforward programming, long time durability with good looks.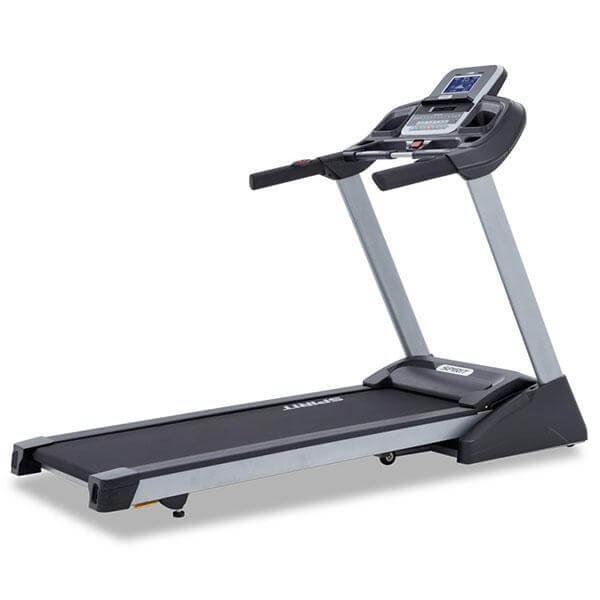 Features of Spirit XT285 Treadmill
2 Heart Rate Programs
Incline for up to 12 levels
Bluetooth to use with the Spirit Fit App
Larger motor
Longer running surface
Audio jack along with speakers to listen to music
1/4″ Thick deck
HR receiver W/ chest strap
Offers different programs like Fat Burn, Cardio, Strength, Interval, Hill,
Manual & 2 Heart Rate
Warranty
Frame – Lifetime
Deck – Lifetime
Motor – Lifetime
Labor – 1 Year
Parts – 10 Years
2. Endurance T25 Folding Treadmill
The Endurance T25 Folding Treadmill combines convenience, quality, and good design, making it one of the best treadmills for the home. Made by a reputed company Body-Solid, it has great features that make it ideal for beginners to advanced fitness enthusiasts. Similarly, if you're looking for a space-saving treadmill for your home, Endurance T25 Folding Treadmill won't disappoint you. For instance, it offers quick and easy folds by transporting wheels that allow you to move from one place to another quickly.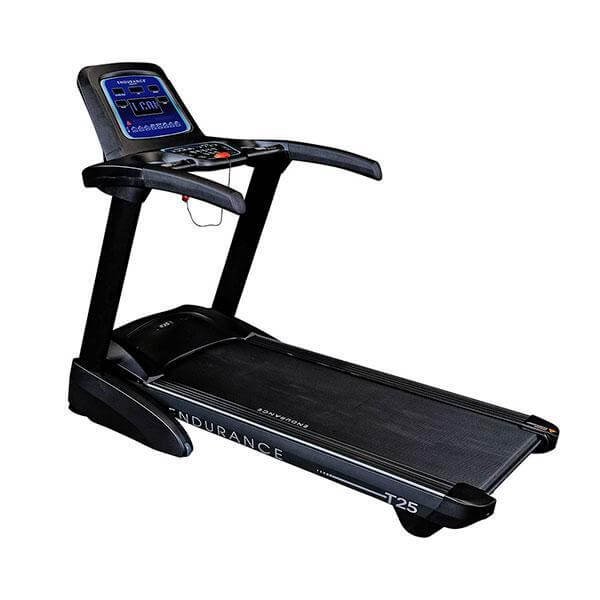 Features of Endurance T25 Folding Treadmill
4 HP Peak Motor & 2 HP Continuous Duty
Speed Range – 1 to 10 mph
Elevation Level – 0 to 12%
Running Space – 20.5″ x 57″
Maximum Weight – 275 Lbs (124.74 KG)
Interactive LED display for showing time, speed, pulse, distance to users
Audio Inputs
Built-in Speakers
Cell phone holder
Offers 16 programs such as Quick Start, Weight Loss, Time Countdown, Calories Countdown, Distance Countdown, Marathon Training, Walk, Hill, Jog, Cardio, Sprint, Race, 3 Heart Rate Controlled & Random
Warranty
Frame – Lifetime
Parts – 5 Years
Electronics – 2 Years
Labor – 1 Year
Wear Items (Brake Pad, Seat) – 6 Months
3. Spirit XT185 Treadmill
The Spirit XT185 is an entry-level treadmill. Put simply, if you're among someone who doesn't have prior experience of using a treadmill, then Spirit XT185 is one of the best treadmills for the home that you can have. Similarly, compared to the high-level model, it's relatively cheap.
You'll find most of the things like other treadmill models. Still, programs and features are less comparatively. Nonetheless, it'll provide all the necessary stuff that an individual requires. Furthermore, it's designed to thrive on minimum programs, making it the perfect option for someone who wants a treadmill for walking or hiking exercise.
Features of Spirit XT185 Treadmill
7.5 Inches Blue Backlit LCD & Tablet type reading rack console
Provides feedback through console such as Heart Rate, Segment Time,
Altitude, Pace, Laps, Elevation, Distance, Time, Calories, and Speed
Directly accessible buttons for Incline and Speed
Speed from 0.5 – 10 Mph
Ten different incline levels
2.75 Hp drive motor
Folding deck with 3/4″ Phenolic & Lubricated Silicone
20″ x 55″ thick belt (1.66 m thickness)
2.5″ Front & 2.0″ rear rollers
Dual storage trays & Swivel fan
Handles up to 275 Lbs
Six different programs, namely, Interval, Cardio, Strength, Hill, Fat Burn & Manual
Warranty
Frame – Lifetime
Labor – 1 Year
Parts – 5 Years
Motor – Lifetime
Deck – Lifetime
4. Endurance T50 Walking Treadmill
Whether you're a beginner who has just started working out or recovering from any injury and need equipment like a treadmill for walking, Endurance T50 Walking is the best treadmill you can have that provides enough features for safe and reliable fitness.
Provided with 18.9″ x 53″-inch-thick belt making it a better option for treadmill preferred for walking instead of heavy workout such as jogging or running.
Features of Endurance T50 Walking Treadmill
Thick handrails
1.5 Hp high torque motor
Walking belt of size 18.9″ x 53″
LED display
0.1– 5 mph speed
Wide rear entry ramp & aluminum foot rails
Easily readable LED display
Capable of handling weight up to 310 lbs
Warranty
Frames – 15 years
Parts – 3 years
Electronics – 2 years
Wear parts – 6 months
Labor – 1 year
5. Bluefin Fitness TASK 2.0 2-in-1 Folding Under Desk Treadmill
Bluefin Tasks is the best treadmill for home, office, or gym with fully loaded latest features and design. Similarly, it allows you to fold and slide the Blufin Task making it easier to store.
Built with multi-layer durable rubber and PVS makes it absorb the shock. In addition, it comes with an Aero Damping shock absorption system, which makes it easier for your joints. Likewise, it has a powerful motor that can reach up to 8 Km/h and a digital LCD console that shows calorie, speed, distance, and gauge.
Features of Bluefin Fitness TASK 2.0 2-in-1 Folding Under Desk Treadmill
LCD fitness console
Built-in six automatic programs
Safety key for stopping treadmill immediately
149 x 66.5 x 105 cm in upright position
149 x 66.5 x 7 cm when it's folded
Speed up to 8 Km/h
Built-in Bluetooth speakers
6. Bluefin Fitness KICK 2.0 Innovative High-Speed Folding Treadmill
Bluefin Kick is one of the powerful treadmills designed for home users. Offered with an aero damping shock absorption system designed for better joint health helps reduce the stress your knee joints get while running. Similarly, it comes with an extra-large anti-static running surface while offering excellent traction and resistance.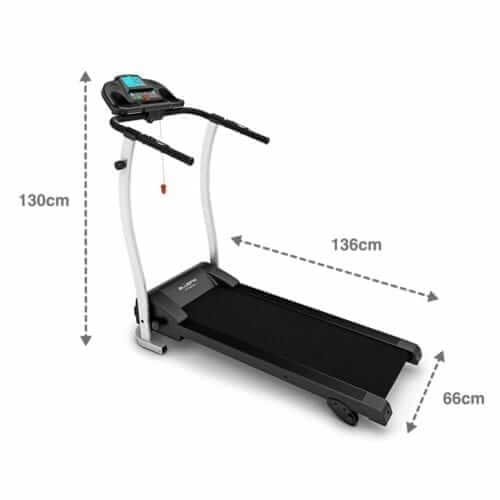 Features of Bluefin Fitness KICK 2.0 Innovative High-Speed Folding Treadmill
Digital fitness console of 5 inches
Automatic lubrication system
Built-in Bluetooth speakers
Top speed up to 12 Km/h
Up to 18% hill incline
Safety key that stops treadmill instantly
Heart Rate Monitor (Wireless)
For accurate heart rate, integrated hand sensors
Wrapping Up
Treadmill is among the essential pieces of exercise equipment you can see in gyms, and nowadays, it's also found in a garage gym or at the corner of the house. Nonetheless, if you're thinking of buying one for yourself on a limited budget and have questions such as what's the best treadmill for home, then here we've recommended six different treadmills. We hope it may help you in making your decision.