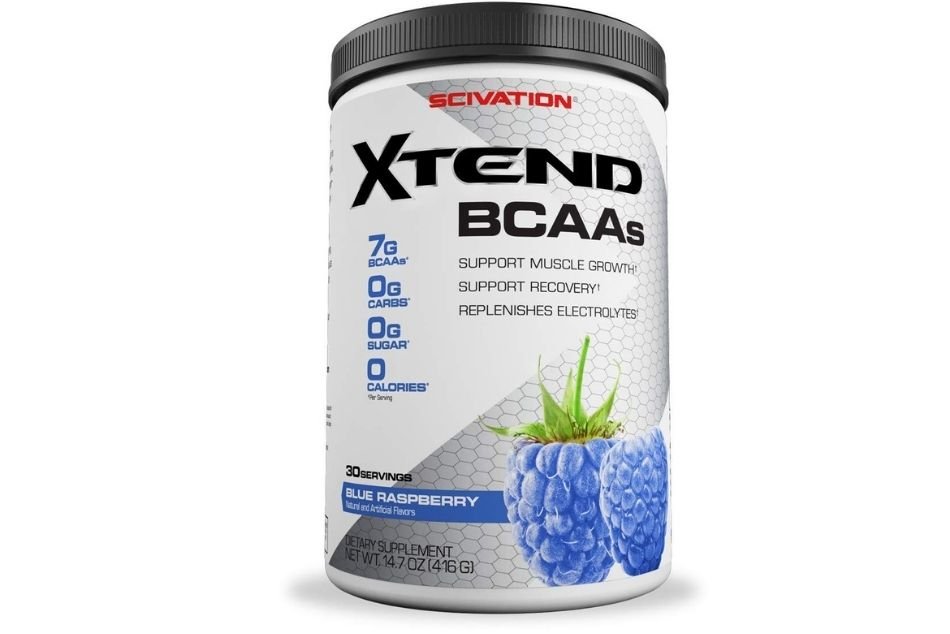 SciVation Xtend BCAAs the Winner of Multiple Bodybuiding.com Awards
Considered one of the most popular intra-workout supplements, SciVation Xtend comes with various proven ingredients that help you intensify your workout. It provides good support for the overall recovery process, stimulating muscle protein synthesis to enhance intra-muscular nitrogen levels.
According to the review of SciVation Xtend BCAAs, we can say that it's manufactured using a zero-carb formula that gives you an option to add carbohydrate sources. It's one of the best supplements for building muscle as well as losing fat or both.
SciVation Xtend BCAAs Review: What Are the Ingredients?
Below are the ingredients of Scivation Xtend BCAAs that help you perform at your best in the gym:
BCAAs:

3500 mg L-Leucine
1750 mg of L-Isoleucine
1750 mg of L-Valine

L Glutamine
Citrulline Malate
Vitamin B6
Blend of Electrolytes that contains:

Potassium Chloride
Sodium Chloride
Trisodium Citrate Dihydrate

Vitamin B6 as Pyridoxine HCl
How & When to Take SciVation Xtend BCAAs?
According to SciVation, it's recommended that you take one serving of SciVation Xtend per 250 ml water. You can also take SciVation Xtend before or during your workout and any time of the day on your rest days to speed up your recovery time.
Lastly, if you're someone who trains heavy, or goes for high volume workouts, or high intensity, then you can use more than one serving while training or throughout the day as and when required.
Advantage of Using SciVation Xtend BCAAs
Benefits offered by SciVation Xtend BCAAs are:
BCAA (Branched Chain Amino Acids) helps stimulate your muscle protein synthesis, required to repair tissues and create new ones to recover your torn down muscles during workouts.
As an intra-workout supplement, it'll help retain your lean muscle mass, whether you want to build muscle or lose fat. Also, it'll help to prevent your muscle against catabolism that's caused during intense workouts.
According to SciVation Xtend BCAAs review, another great offer is a blend of Electrolytes that's beneficial for a balanced ratio of sodium and potassium that can get affected when someone is on a strict diet. Further, electrolytes also help prevent muscle cramps caused, especially due to dehydration, and enhance the delivery of nutrients and water to your muscles, resulting in improved pumps and muscular contractions.
Citrulline Malate works as a nitric oxide production and indirectly helps stimulate the nitrogen production into your muscles.
Additionally, L-Glutamine facilitates the replenishment of muscle glycogen without carbohydrates. Also, it helps in the recovery process by boosting your immune system.
SciVation Xtend BCCAAs Review: Flavors & Serving Size
According to their website, Xtend SciVation BCAAs are available in 14 different flavors:
| | | | | |
| --- | --- | --- | --- | --- |
| Xtend Pink Lemonade | Xtend Freedom Ice | Xtend Watermelon Explosion | Xtend Tropic Thunder | Xtend Strawberry KIWI Splash |
| Xtend Smash Apple | Xtend Miami Ice | Xtend Mango Madness | Xtend Lemon Lime Squeeze | Xtend Knockout Fruit Punch |
| Xtend Italian Blood Orange | Xtend Glacial Grape | Xtend Blue Raspberry Ice | Xtend Black Cherry | |
Further, it's provided in two different sizes 30 servings & 90 servings. Also, ready-to-drink SciVation Xtend is available, and it's manufactured in packages containing one dozen bottles of 16.9 fluid oz.
SciVation Xtend BCAAs Review: Any Precaution Is Needed?
Some of the scenarios where it's best to give a second thought or avoid using SciVaiton Xtend BCAA are as below:
SciVation Xtend BCAA has a vasodilatory effect, so it is recommended to avoid using it if anyone has issues related to the heart or any other cardiovascular disease.
Women should avoid using it if they're pregnant or women who have a child and breastfeeding them.
Anyone under 18 years old shouldn't bother to use this or any other dietary supplement.
Suppose you're going through any pre-existing medical condition, or you're using prescribed medication. In that case, it's suggested that you consult your doctor before using SciVation Xtend or any other dietary supplement.
Review of SciVation Xtend BCAAs: Does It Contain Caffeine?
No, it's a non-caffeinated intra-workout supplement that anyone can use, especially those sensitive to caffeine or other stimulants.
Is It Mandatory to Have an Intra-workout Supplement?
No, it's not mandatory to have any intra-workout or any other supplement, especially if you're a newbie. For new gym-goers, it's recommended to focus on diet and exercise. As time passes by, start looking for supplements such as Whey protein, then pre-workout, or intra-workout supplements such as SciVation Xtend BCAAs.
Further, if you're indulging in drinking alcohol or smoking, then first, you'll need to address these issues because no supplement can undo the damage you're doing due to the habits you've. So, first, focus on addressing an unhealthy lifestyle, then look for such supplements.
SciVation Xtend BCAAs: Does It Worth the Money?
Unlike other intra-workout supplements, SciVation Xtend comes with considerable value in terms of money and ingredients. It's reasonably priced and offers proven ingredients. The short answer is YES. It worth the price you pay for. You can also use it as an intra-workout supplement and as a recovery drink, depending upon your training experience and dieting level.
Wrapping Up
SciVation Xtend is one of the rare intra-workout supplements that has won many Bodybuilding.com awards over time and leading as an intra-workout supplement for bodybuilders and athletes worldwide.
SciVation Xtend is the no-nonsense blend that comes with proven effective ingredients that provide effective dose without any "proprietary blends" that many supplement companies often use to hide the fact that active ingredients are not in sufficient dosages.