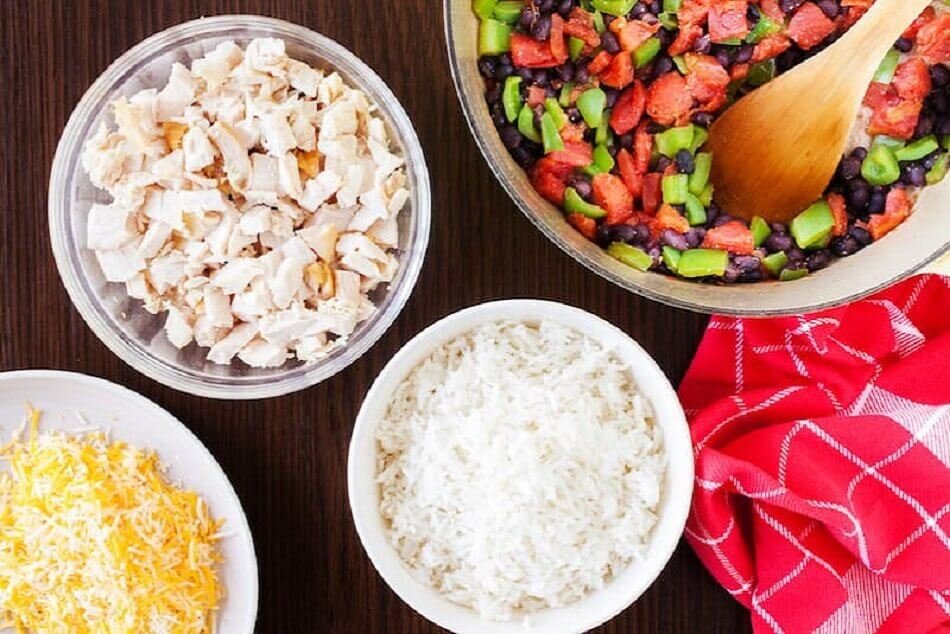 Protein Rich, Delicious & Macro Friendly Easy to Cook Chicken Burrito Bowl Recipe
Are you tired of tasteless chicken and looking for a new and easy way to cook in a healthy way that gives good taste and stays macro friendly?
Here, we've one easy-to-cook Chicken Burrito bowl recipe that will fit all your requirements. It's tasty, healthy and easily fits in your macro. The chicken burrito bowl is easy to cook for a nutritious, delicious meal and fills your tummy. It's a homemade version of a tasty chipotle chicken burrito bowl that can be an excellent fit for your lunch or dinner.
Ingredients Needed for Cooking Chicken Burrito Bowl Recipe
Cooked white rice 2 cups
Cilantro 2 Tbsp
1 Lemon
350 Grams raw Chicken breast
Your favorite Mexican seasoning
½ Cup Black beans without salt added
½ Cup fresh Salsa
Guacamole spread – 1/4th Cup
Non-fat Greek Yogurt – 1/4th Cup
Shredded Cheddar Cheese – 1/4th Cup
Shredded Lettuce – 1 cup
Steps to Cook Chicken Burrito Bowl
Below are the steps to prepare the chicken burrito bowl recipe:
Mix cooked white rice with lemon juice, chopped cilantro, and salt according to your taste.
Bake or grill, chicken breast tossed with Mexican seasoning. And, after cooking it, cut it into small pieces.
Microwave and warm black beans.
Now, divide all ingredients into a bowl:
Shredded Lettuce
Cilantro lime rice
Black beans
Cooked chicken breast
Fresh salsa
Guacamole
Non-fat Greek yogurt
Now, sprinkle cheddar cheese on top and add a lemon wedge.
If you want, serve it with chips.