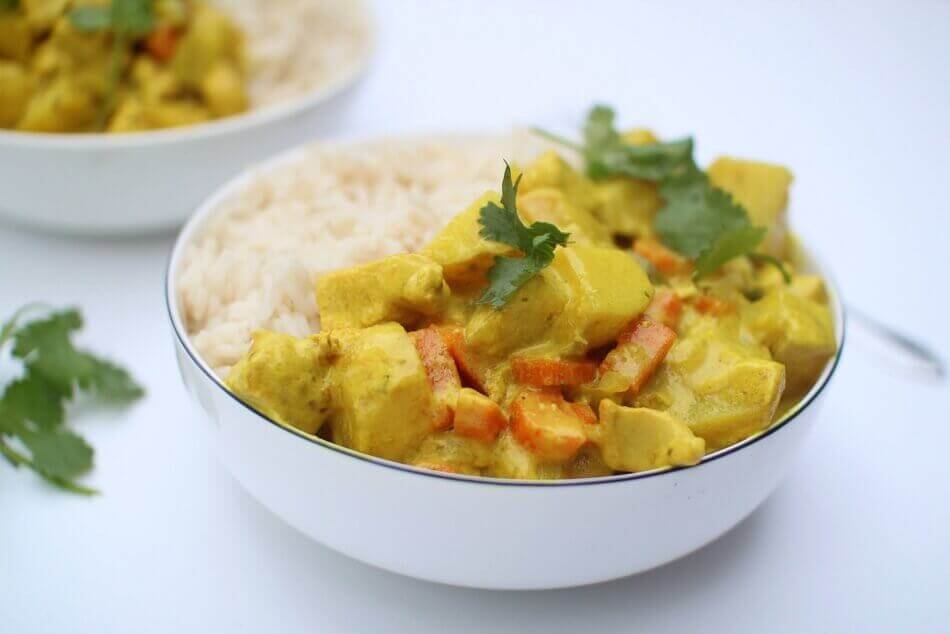 Low Fat Chicken Curry Recipe Good for Packing Protein & Healthy Fats
Are you a gym addict who follows a strict diet? Then you know how boring it gets to eat the same food again and again.
However, like many others, you also might be having a thought of having a delicious chicken curry, but at the same time, you might be thinking how come that spicy and oily chicken curry can be healthy. Don't worry, here we have a healthy and low-fat chicken curry recipe that can fit your daily macros.
Ingredients Required for Chicken Curry Recipe
150 Grams boneless chicken breast
Raw mushroom – 5 cups
Green raw beans 2 cups
Red pepper – 1 whole
Canned chicken broth – 1/4th Cup
Low-fat yogurt – 1 Cup
Extra virgin olive oil – 4 Tsp
Curry powder – 2 Tsp
Corn-starch – 4 Tsp
Chicken Curry – Instructions to Cook Instantly
Cut chicken breast into small to medium size cubes.
Get a large non-stick deep frying pan and 1 Tbsp Extra virgin olive oil.
Add small sliced pieces of chicken breast.
Let it cook till chicken breast becomes brown.
Get another non-stick frying pan, add 2 Tbsp Extra virgin olive oil and cook mushrooms, beans, pepper till it softens.
Add chicken broth, curry powder, corn-starch, and yogurt into the first frying pan in which the chicken is getting ready. Stir the mixture till it thickens.
Now, take the second frying pan ingredients, pour it into the first frying pan, and stir it well.
It provides two servings, so divide it equally and serve it with vegetable mixes.
For extra calories, you can serve it with white or brown rice.