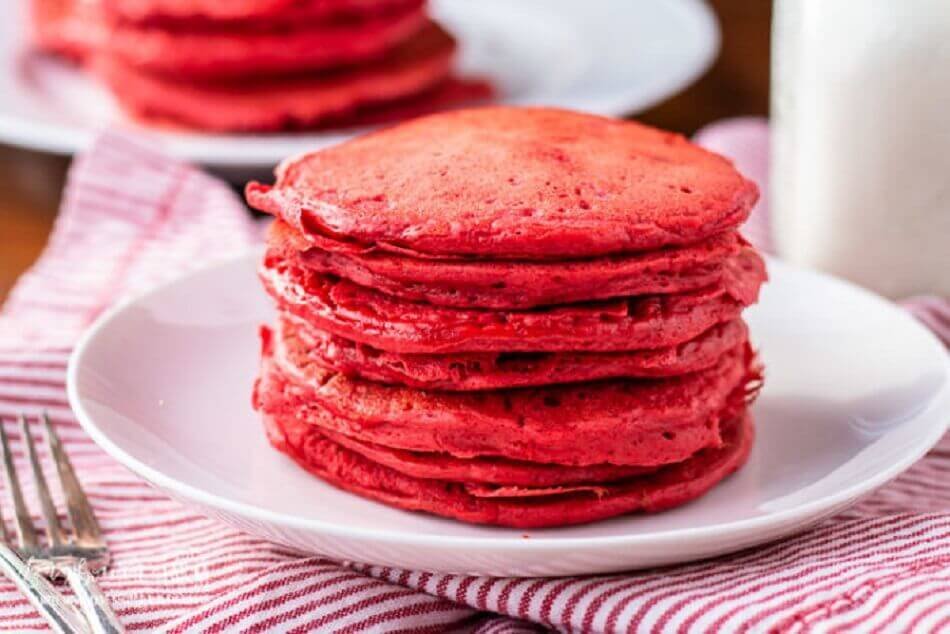 Start Your Day With Delicious Red Velvet Protein Pancake Frosted With Cream Cheese
Someone who hits the gym regularly knows how important breakfast or pre-workout meal is. If you're among those who stick to the regular meals and are tired of eating the same meals such as oatmeal and eggs, then here we've something different to try without giving up on your diet regime.
Yes, protein pancakes are also the best choice for breakfast or pre-workout meals. And, if you're someone who likes Red Velvet cake and also likes pancakes, then you're going to fall in love with this delicious Red Velvet protein pancake that can prove as a great pre-workout meal due to its taste as well as high protein.
Recipe of Red Velvet Protein Pancake – List of Ingredients
Below is the full list of ingredients you'll need to prepare your Red Velvet protein pancake.
1 cup flour of oats
2 scoops of red velvet cake mix
2 scoop of Chocolate Or Vanilla whey protein isolate (vanilla flavored suggested)
Greek yogurt ½ cup
Unsweetened cocoa powder 1/4 cup
2tsp Baking powder
2 tsp Vanilla extract
½ tsp salt
Sweetener according to taste
Cream cheese frosting
1/4 cup of reduced-fat or non-fat Greek yogurt
Greek yogurt cream cheese 4 Tbsp
Sweetener according to taste
Directions to Prepare Red Velvet Protein Pancake
First, mix all the frosting ingredients and put them in the fridge.
Whisk dry ingredients like whey protein powder, baking powder, cocoa powder, oat flour, and salt.
Now, mix other ingredients, namely, egg whites, greek yogurt, sweetener, and vanilla, and again mix it with dry ingredients that you mixed earlier into one bowl.
Put a non-stick skillet on medium heat.
Drop that batter of red velvet protein pancake into that pan.
Let it cook till you see small bubbles showing up.
Flip on another side and let it cook for another 1- 2 minutes.
Repeat the same process till the batter is gone.
Remove that cream cheese frosting that you kept in the fridge and mix it.
Now, lay pancakes and cream cheese mixture on plates.
Add some toppings like chocolate chips if you want and serve it.